Keith Callaghan explains the thinking behind the H2.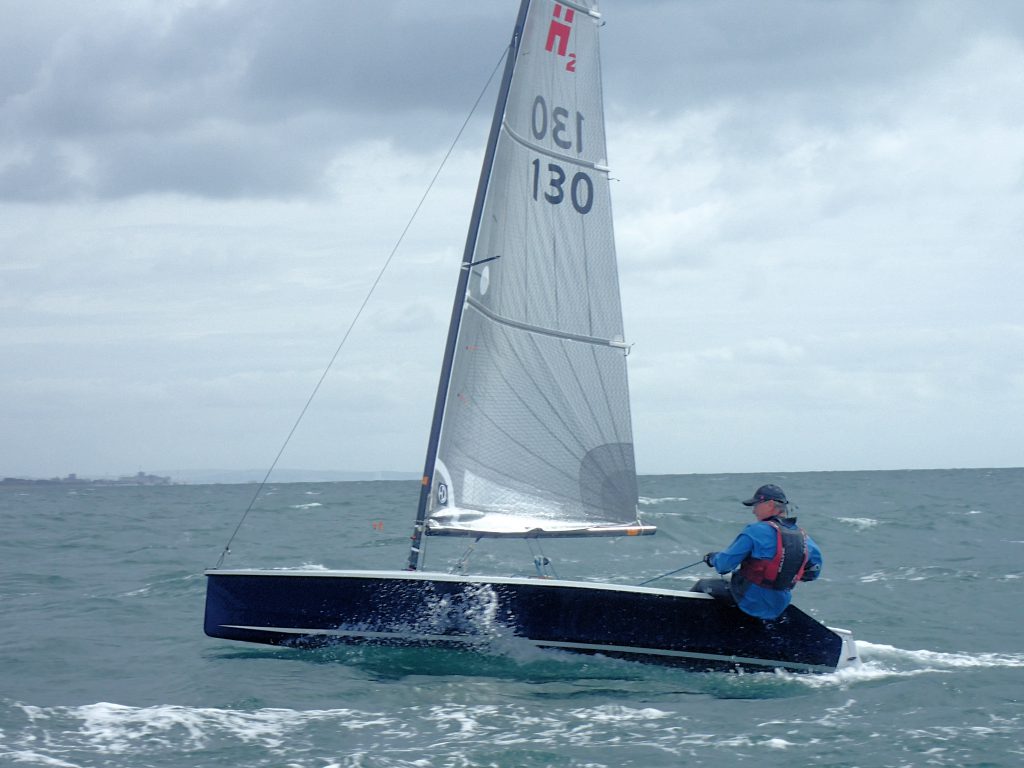 My first singlehander dinghy design was the Harrier, which achieved some success in the early 1970s. At that time I was riding high as a designer in the Merlin Rocket class, which was in its heyday, with over 200 boats being built annually. So it should come as no surprise to learn that the Harrier was an attempt at a single handed Merlin Rocket, with all the attributes of that classic dinghy class.
Since then I have designed several one-off singlehanders and, continuing the theme of a 'singlehanded Merlin Rocket', over time I came up with a set of criteria for a theoretically ideal design:
– Classic good looks which will not age.
– Impeccable handling characteristics.
– Comfortable, with excellent ergonomics.
– Versatile – at home on the sea or inland.
– Quick and exciting but not extreme.
– Customisable colour scheme and layout to personal preference, within the class rules.
– A delight to own and sail, and built to last, using the best materials and accessories available.
– Easy to handle afloat and ashore (I find that dragging the vessel up the slipway after a race is the most exhausting part of the day!).
– Easy to recover after a capsize (especially important for a singlehander).*
In 2011, I produced my fourth singlehander design – the Hadron (since renamed 'Hadron H1'). It was designed for amateur builders, was of 4 plank plywood construction and fitted most of the above requirements – except in two ways: it was not that light (93kg) and the rig was not very 'gust-responsive'. Nonetheless, it had many plus points and I thought that if I could sort the two main issues then we would have a boat that appealed to a wide range of people.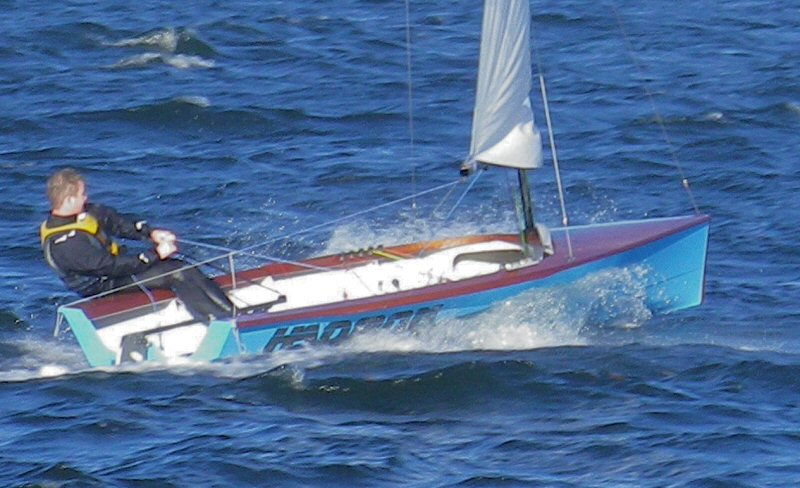 So I teamed up with boatbuilder Simon Hipkin and we decided to go for a 'mark 2' version –to be called 'Hadron H2' or just 'H2′ (but not 'Hadron'). Simon engineered all the mould tooling and now manages the complete moulding, assembly and fitting out process. The H2 is of carbon/epoxy/foam composite construction – it's a boat for the future so let's make it with the latest techniques and materials. So she is much lighter than the plywood boat – about the weight of a Phantom – easy to pull around ashore as well as adding performance on the water. The rig is about 7% smaller (9.3 sq m instead of 10 sq m) and has been developed by Jim Hunt and Andy Davis at HD Sails after we were supported in the Hadron H1 rig development by Michael McNamara. The rig retains the kicked-up boom of the original – the increased headroom greatly assists when tacking, and the boat has to heel a long way before the boom end hits the water.
We produced two pre-production boats in early 2016 and these boats were intended to be used to try different rig options to develop a user-friendly rig. In fact these boats performed superbly and we felt that we had hit the right formula almost from day 1.
Under water, the design differs little from the H1 except that the shape is now 'round bilge' instead of 'multi-chine'. Above water there are several significant changes – for aesthetic, structural and performance reasons. The upper chine is retained and accentuated by concave topsides. The stem is now vertical and the transom cut away. With other detailed styling changes she is an eye-catching boat with classic lines.
As with the original Hadron, the interior incorporates a low bow tank, a central longitudinal buoyancy tank and no side buoyancy: this allows the boat to sit low in the water after a capsize, to facilitate righting*, but the buoyancy comes into play once righted and two bailers soon remove what water remains. In the H2 we have added a shallow stern tank to further reduce the residual water and improve recovery time. This configuration necessitates three mouldings instead of the usual two but we feel that the additional complexity (and hence expense) is more than justified.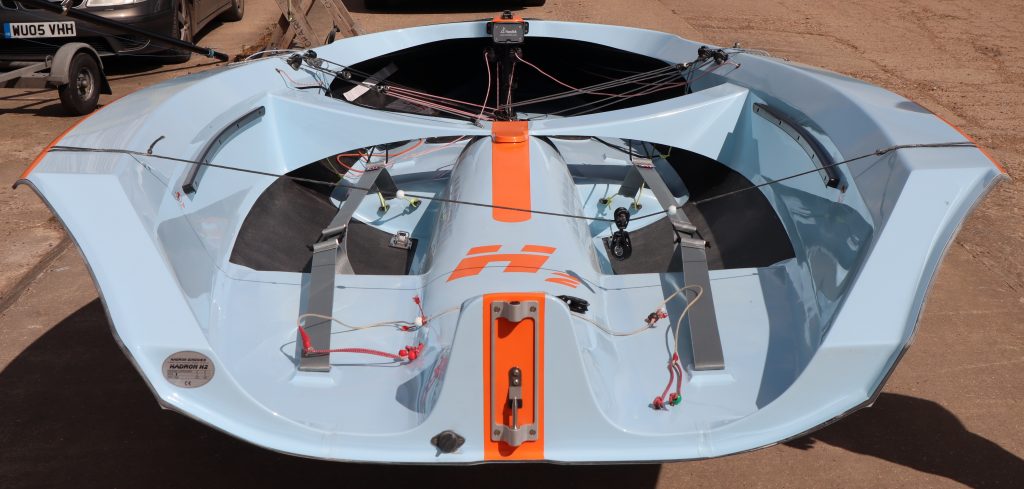 Another safety feature is the open transom, which facilitates re-entry of an exhausted crew after a capsize, should they be unable to get in over the gunwhale. From January 2018, all Hadron H2s have been fitted with retrieval lines to further facilitate capsize recovery.
The absence of a full double bottom means that the generous hull depth can be fully utilised to provide an ergonomic sitting out position – no 'straight-leg' sitting out required!
As each H2 is hand crafted and given individual attention according to the owner's requirements, the number of H2s built annually is necessarily low. In November 2021 the 50th H2 was completed and with an order book stretching to 2023 the H2 would appear to have an exciting future.
The RYA has given the H2 a Portsmouth Number of 1034 for 2022. Standard fit-out utilises Allen Brothers fittings, and is comprehensive, with all controls led to each side deck utilising endless lines. Carbon spars and HD sail are included. Everything about the boat is premium quality and even though light in weight, is designed to last. Buyers have a choice of a very wide range of hull and deck colours. Price is similar to that for a Blaze or a Phantom.
As Tom Gruitt said in the original Yachts and Yachting review of the Hadron (H1), it is an "An extremely well-mannered boat which was very comfortable to sail while still giving the performance to put a smile on your face". We built on that concept with the new carbon composite Hadron H2.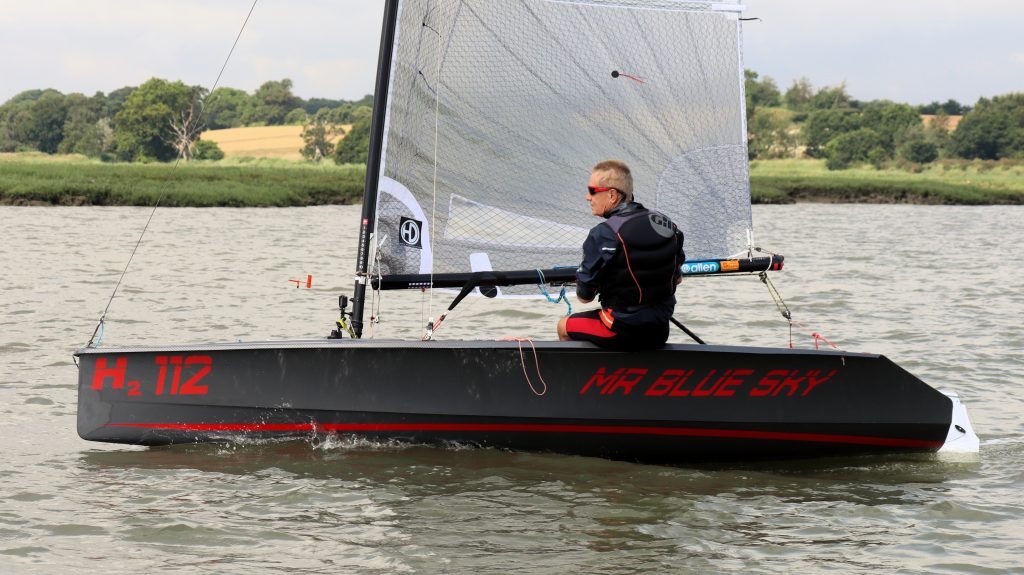 The H2 will appeal to all who take enjoyment from the superb performance and handling, quality manufacture and design, and pride in ownership of a modern classic singlehander.
For a 'First impressions' reaction from yachting journalist David Henshall, read this article.
David Henshall subsequently carried out a full test for Yachts and Yachting.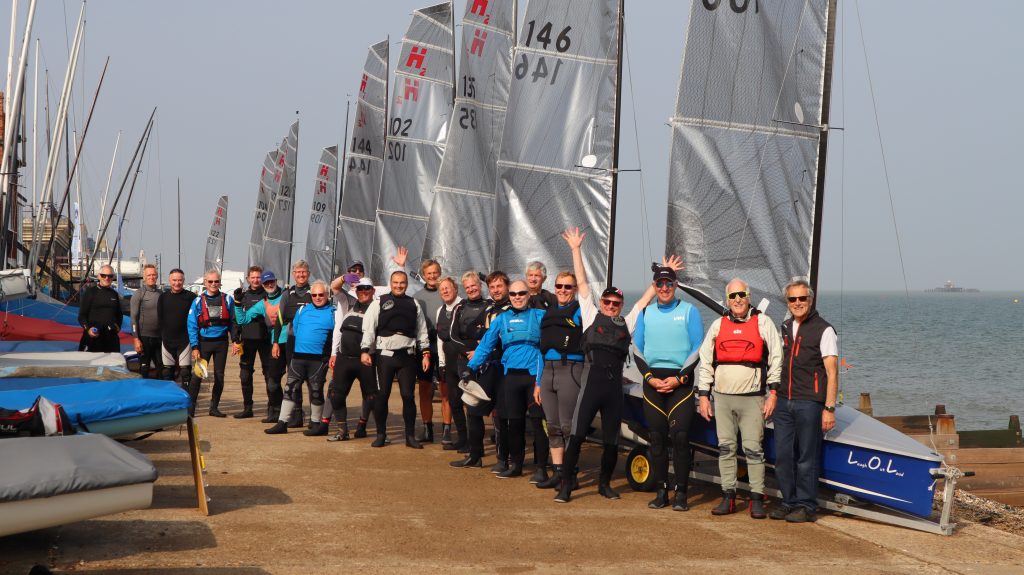 We have a growing community of enthusiastic owners who greatly enjoy each others' company whilst sailing their chosen dinghy. The Hadron H2 is now well on the way to being an established class, with an active class association. and Facebook page. There is also a Hadron H2 Class Association YouTube Channel which features videos of the boats sailing and comments and interviews with various owners.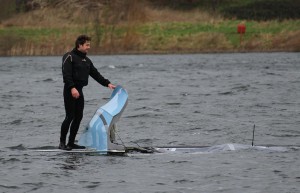 * Safety is a primary consideration for the H2. Because of the buoyancy distribution, the boat is disinclined to 'turtle' and generally rests on its side with the centreboard only inches above the water – something few other boats can achieve. It is however necessary to be able to get onto the centreboard in order to reach the retrieval lines and right the boat. Anyone trying out an H2 is recommended to try a test capsize to see if they are able to mount the centreboard. Once the boat is upright, the relatively high freeboard may make it difficult for some helms to pull themselves over the gunwhale. In that case, entry back into the boat can be made by way of the open stern.