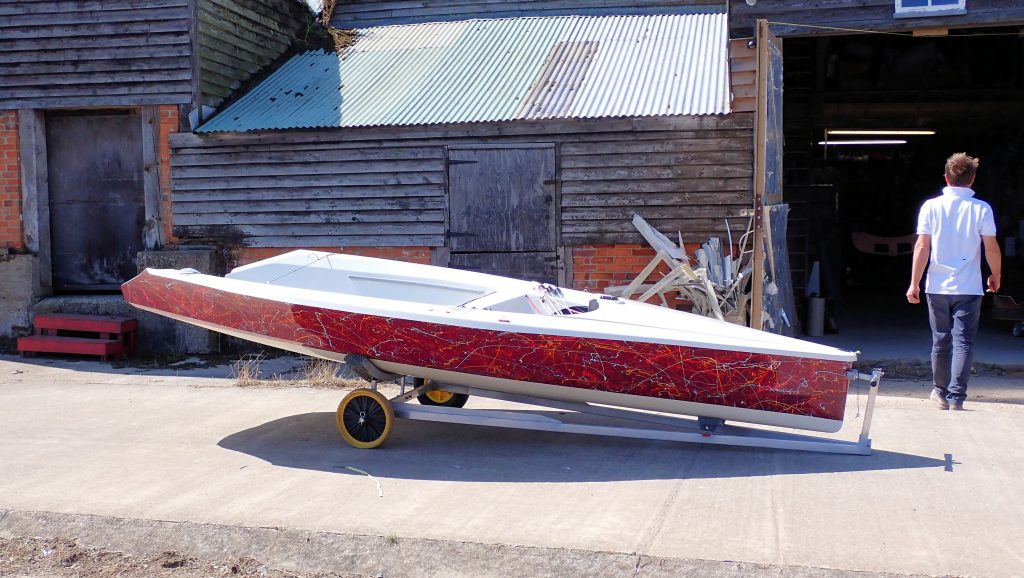 HADRON H2: Principal Dimensions:
Length over all
4.20 metres
Length on waterline
4.20 metres
Beam
1.95 metres
Bare Hull weight
56 kg
Sailing weight
(Including foils, fittings, spars and sail)
76 kg
Sail area
9.3 sq metres
Portsmouth Number (2021)
RYA PN: 1038. Great Lakes Handicap: 1038
A lot of thought has gone into making sailing the Hadron H2 dinghy a pleasant and rewarding experience. Here are some of the main features:
The extremely light, performance-orientated but forgiving hull form and rig produces a versatile, manageable dinghy which can be sailed on lake, river or sea, with good performance to windward and also offwind. An easy performance dinghy for relative novices. Excellent handling and exhilarating performance for experienced sailors.
A unique buoyancy configuration which ensures that the boat floats low in the water when on its side, thus facilitating righting. The boat floats on its side with the centreboard just clear of the water, and when righted retains a very modest amount, which can be evacuated rapidly via two Andersen self- bailers , even in light conditions.
The downflooding angle (the heel angle at which water enters the cockpit) is 32 degrees.
The angled boom provides plenty of headroom for ease of tacking and removes the possibility of the boom end hitting the water at extreme heel angles.
The large, deep cockpit area and ergonomic side decks provide a comfortable sitting out position. The central buoyancy compartment acts as a useful seat in light conditions. There is also a thwart for that purpose.
A centreboard is fitted – much more convenient than a dagger board, especially on a singlehander. The centreboard can be adjusted while sitting out.
Rig controls are led to cockpit sides for easy adjustment whilst sailing.
The flared hull, good freeboard and wide gunwhales minimise spray and keep the crew dry in all but the windiest conditions.
The latest materials and techniques are used in the hull manufacture. The hull lay-up consists of carbon cloth with additional carbon reinforcement in areas liable to hardest use. The result is a hull which is extremely strong, light and long-lasting.
Summary of standard fit-out: Allen Brothers fittings are used throughout. There are continuous control lines for kicking strap, Cunningham, clew outhaul and forestay, with alloy cam cleats on the carlins, port and starboard. The standard centre mainsheet system is 'off boom' with a ratchet block (a system favoured by the National Champion and runner-up in 2021). A track/car system with swivel jammer is available as an extra. There are uphaul and downhaul lines for the centreboard. The forward toestraps are padded and are adjustable. A custom alloy rudder stock, tiller and 1200mm alloy tiller extension by Allen Brothers are supplied. Retrieval lines are fitted under the gunwhales. Various options are available – see ordering page.

Richard Leftley at the H2 Nationals, 2020.

The CLASS RULES are available here.
The current OWNERS OPERATIONS MANUAL is available here.
The current OWNERS MANUAL as required by the EU Recreational Craft Directive and equivalent UK legislation is available here. The Hadron H2 is certified to be compliant with EU RCD Category C and Category D and UK equivalents.

One of the major features of the H2 is its light weight. In order to achieve this, a minimum amount of gel coat is applied to the mouldings and no scrim layer is added between the carbon cloth and the gelcoat. This scrim lamination is designed to minimise 'print through' of the cloth weave, but adds significantly to the overall weight. Thus you may well see signs of 'print through' on the laminates. This is normal, and is a feature of the lightweight laminate structure.

The Hadron H2 has been tested by expert helms in winds up to Beaufort Force 6 (27 knots) and waves of up to 2 metres in height. However, sea state is dependent on many conditions, such as depth of water and tidal flow and it is an individual's responsibility to sail in conditions in which he/she is competent.

Hadron Dinghies Ltd reserve the right to change without notice details of the specification of the Hadron H2, as permitted within the Hadron H2 Class Rules.